About the author:
I was born in the labor movement.
My father was a depression survivor,
Roosevelt Democrat, and union organizer
for the CIO in the 1930's.
They were organizing a furniture factory
in Upper Michigan, The Lloyd Company.
They took Lloyd out on a long strike
.Nine months after the Lloyd strike there
was a baby-boom in that town.
I was one of those "strike babies," and I'm still there

.
By Will Moore
Hello Fellow Democrats,

This is a proposal that we put together a Mother Lode Counties Democratic Party picnic/fund raiser/convention event at Jackass Hill in Tuolumne County in 2012
.
This idea grew out of some discussions at the 2011 state convention about combining the activities of various Democratic committees and clubs in order to make them more effective than tiny little groups working independently. Many of these discussions occurred in the context of the Rural Caucus committee meeting where the smallness of rural county populations and the limited resources of party organizations in the rural counties drew particular attention.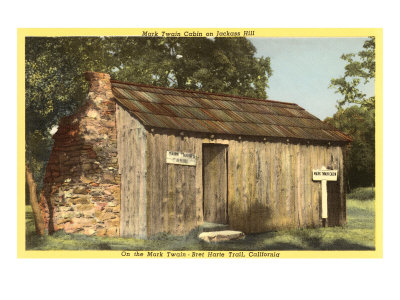 This is a proposal that we hold an annual event at Jackass Hill. Jackass Hill is a state historical landmark. Mark Twain's cabin is in a tiny park on Jackass Hill. The name of the place is a natural fit for us Democrats and it has a certain Mother Lode down-to-earth country folk appeal to it. Democrats from the Bay Area and further afield would come to this event just because of the name. The Mark Twain thing would lend some historical appeal to our event. Having Mark Twain's famous name on our invitational literature would draw some people from outside the Mother Lode just because it's Mark Twain. There are people from outside the Mother Lode who would drive to Tuolumne County just to see Mark Twain's cabin if they knew it was there.
We couldn't actually do much on Jackass Hill. The park there is about ¼-acre, the size of a subdivision house lot, with a narrow little road leading up to it. However! The Tuttletown campground on New Melones Lake is directly across the highway from Jackass Hill. The lake is beautiful; the mountain scenery is beautiful; there is plenty of room there. We could have an outdoor Bar-B-Que, firehouse chili cook-off, beef-in-a-barrel kind of event there with room and facilities for 1000 people or more. There are plenty of available camping facilities at Tuttletown and elsewhere around the lake. People can come from far away in their motor homes and campers and have a weekend mini-vacation with their families.
All of these major pieces for a successful event are already in place; we don't have to create it. All we have to do is get some high draw speakers (Dianne Feinstein?) (Barbara Boxer?) (Jerry Brown?) (Barack Obama?!!!? ) gather the people and have a ball! This thing is a natural. There is a lot of work to do, but it is doable – and it would be a blast!
Respectfully'
Will Moore, Calaveras Democrats,
Thursday, May 05, 2011